You are here:

Homepage

Motorization kit for cladding - 1st fold
Back
Motorization kit for cladding - 1st fold
Ref. SRLT12-KITBARD
Price and lead time: please consult us
Motorization kit with "hands-free" setting reference SRLT12-KITBARD for light seamer SRLT12. Can only be used for the 1st fold in standing seam cladding.
More info
Related products
Motorization kit for cladding - 1st fold
Increase your productivity!
Once the SRLT12-KITBARD motorization kit is mounted on the SRLT12 seaming block, this combination ensures fast and high-quality fold, in one pass, from the first fold of the standing seam profile on building sites.
Its "hands-free" setting, with speed control, allows the seamer to move independently over long lengths of standing seam profile. Its low height and "hands-free" setting make work easier and simplifies the task of sliding between the scaffolding and the façade, without having to unlock the machine or restart the seaming process.
The lever locks the roller set on the profile to be seamed and holds the seamer in place in a vertical position.

NB: The quality of the tray is essential for the proper seaming operation. Please check the dimensions of your profile in accordance with the standard dimensions of the standing seam.
For safe use, it is recommended to use the safety ring on the machine SRLT12 to keep tool from falling.
To use this motorization kit reference SRLT12-KITBARD, it is also necessary to order the seaming block reference SRLT12.
(see "related products" at the bottom of the page)
> Kit composition:
1 DeWALT 18V cordless screwdriver with angle gear, two speed settings with shuttle, 10 mm self-locking chuck with automatic locking, maximum torque 33 Nm
2 compact batteries 5. 0 Ah XR 18V, with LED charge level indicator and charger
1 fold-out attachment for screw-gun DeWALT, to be mounted on the Jouanel seaming block ref. SRLT12. (screws provided)
1 "hands-free" device to be mounted on the SRLT12 Jouanel seamer block, with speed adjustment by button (only suitable for use with the DeWALT 18V cordless screwdriver with angle gear) (screws supplied)
1 set of assembly tools
1 stackable transport case with protective foam
1 kit assembly instructions
1 set of operating instructions for the screwdriver
SRLT12-KITBARD
Maximum capacity for the 1st fold
Capacity for zinc, copper and aluminum (mm)
0,8
Capacity for steel (mm)
0,7
Overall dimensions (l x w x h) (mm)
with DeWALT screw-gun fixing on the seaming unit SRLT12
367 x 244 x 210
Manufacturer's warranty (in normal use)
1-year
Carrying case
Yes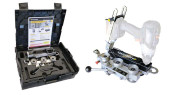 Light seamer for standing seam profiles, with base for screw gun and transport case
Light seamer reference SRLT12 for standing seam profiles height 25 or 32mm - 1st and 2nd fold, with base for screw gun and carrying case (screw-gun not supplied)
Add to my cart
for a quotation request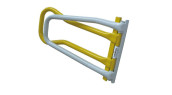 1st seam folder, width 220 mm
1st seam folder of trays in standing seam, roofing or cladding - Reference PLI01NM
Add to my cart
for a quotation request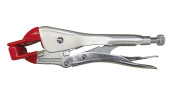 Locking flat nose pliers with PVC coated jaws, for standing seam profiles, width 100mm
Insulated locking flat nose pliers for standing seam trays, 205-mm length, 100-mm width, 8'' - Reference PEJD-100
Add to my cart
for a quotation request